Whether you're a St Louis native or planning a family vacation to the area, we've compiled an easy list of the perfect day trips from St Louis to enjoy with your loved ones.
Leave the hustle and bustle of downtown St Louis and head to charming historic towns to learn of the state's rich history, or embark on a more thrilling day trip to a theme park or state park.
A tour we think you'll love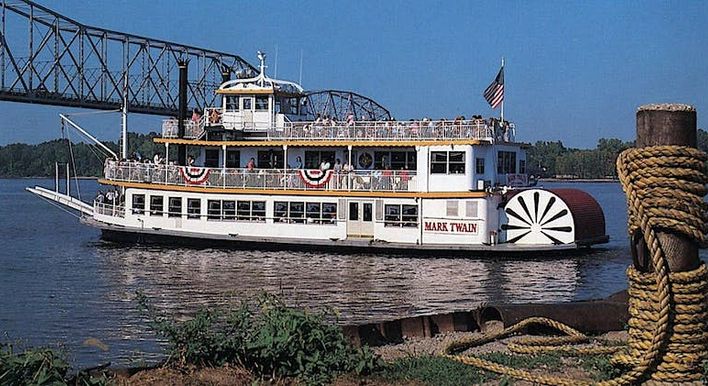 Sightseeing Tour
From $25
View tour
1) Indulge In Historic Attractions In Hannibal
If you're looking for the best day trips from St Louis for families, then you have the check out one of the most historic places in Missouri! Hannibal is the hometown of the great American author Mark Twain. There is so much to see and do when you visit Hannibal, but when you make a trip to the town, you have to check out Mark Twain's Boyhood Home & Museum to learn about the author's life.
The Mark Twain National Forest and Mark Twain Cave Complex are also must-see attractions for your family outing in Hannibal. Once you've toured the town and taken the time to learn about Mark Twain at the multiple historical houses turned tourist attractions, head over to our cruiseliner on the majestic Mississippi River to indulge in a Mark Twain Riverboat Tour!
Our tours are the best on the Mississippi River, offering not only sightseeing tours but dinner cruises that serve up a buffet-style meal and a show for one unforgettable evening. Head to our website before your trip from St Louis to lock down your seats for a cruise.
2) Spend The Day At Katy Trail State Park
Katy Trail State Park has to be one of our favorites of all the State Parks in Missouri. Katy Trail is found near Jefferson City and is one of the most memorable hikes you can embark on when spending any significant time at the state park. The Katy Trail launches from the park and contains the longest non-motorized portion of the Lewis and Clark National Historic Trail.
You'll follow beside the Missouri River just like the famous travelers did all those years ago when trekking along this scenic path. Before you know it, you'll feel worlds away from the sometimes crowded tourist areas of St Louis.
3) The Kids Will Love Elephant Rocks State Park
Another genius State Park location to visit with the kids is Elephant Rocks State Park. The entire area is full of massive smooth boulders that lie back to back all over the park.
Not only can you have a blast exploring the different rock formations and watching the kids maneuver the smooth boulders, but this state park also offers a playground, picnic areas, shaded trails, fishing, and some of the best rock climbing for miles.
4) Discover Another Historic Village With Family
If you love exploring a new charming city every time you travel with loved ones, then Hermann should be at the top of your list when traveling in Missouri from St Louis. Hermann is a picturesque town full of historic houses and other exciting things to keep you entertained.
Visit the Deutschheim State Historic Site, learn about the city's past at the Historic Hermann Museum, or check out the Hermann American Viticultural Area to see part of Missouri's wine country with its historic buildings and impressive scenery.
5) Stay Close To The Water In The Ozarks
The Ozark National Scenic Riverways are a fantastic way to experience the beauty of the Missouri River. This national park in the Ozark Mountains has everything mountain lovers could ask for on a family outing.
There are lots of waterways to go fishing, swimming, launching a canoe or kayak, and more. There are more than 80,000 acres in the park, so there's no shortage of space to explore with your loved ones.
Find a camping spot along the river at one of the campgrounds, and don your boots for a walk down one of the hiking trails.
6) Get Your Heart Pumping At Six Flags
If spending time in the great outdoors just isn't your thing, or you need something more thrilling to keep your attention, the Six Flags theme park near St Louis has you covered!
With the cost of admission, you can enjoy a day of rollercoasters and thrill rides, concessions, and games for a full day of family fun that doesn't require hiking or casting a line in the water.
7) Spend The Day At Finger Lakes State Park
Our last State Park on the list is the Finger Lakes State Park. This is the best place to go offroading with your motorcycle or ATV! There are over 70 miles of trails to go hog wild on and more than a dozen small lakes to encounter.
Whether you want to rip through the forest on an ATV or spend a quiet day fishing or canoeing in one of the small lakes, this park has everything you need to have a blast.
There are even full showers and restrooms at the campground if you want to stay for a few days without worrying about creature comforts you'd find at a hotel.
Enjoy A Day Away From St Louis
Although there are plenty of great places to spend the day with your family on our list, we encourage you to spend some time soaking up the history and sit back and relax on the Mississippi on one of our Mark Twain Riverboat Tours.
We can't wait to help you set up a memorable excursion on the water with the ones you love. Head to our site to schedule your tour today!