Hannibal Missouri, is a beautiful location full of rich culture and literary history. It is, of course, the hometown of the legendary Mark Twain and offers plenty of opportunities to learn more about the famous author and his literary masterpieces. If you've been wondering what to do in Hannibal MO, during your stay, we've got you covered with this list!
Visit Mark Twain's boyhood home off Main St in Downtown Hannibal or take in the rich history of the small town at one of the many museums and info-packed tourist attractions. No matter how you decide to spend your time in Hannibal Missouri, you're sure to be enchanted by its charm.
A tour we think you'll love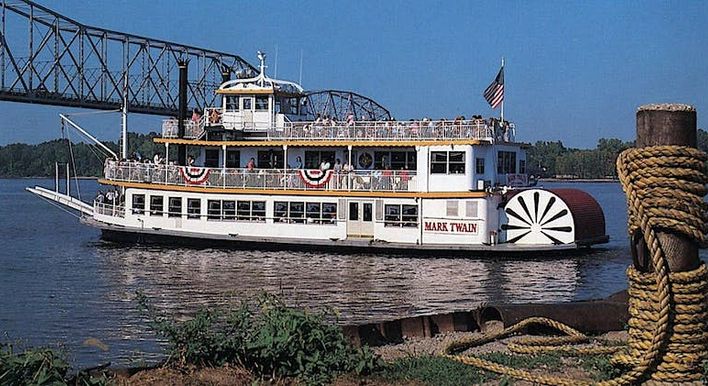 Sightseeing Tour
From $25
View tour
1) Journey Down The Mississippi
Take a Mark Twain Riverboat tour with us and discover the serene beauty of the landscape of the Mississippi River and Mark Twain's hometown. We have two cruise experiences available, the first being a standard sightseeing tour up the mighty Mississippi and the other option being a buffet-style dinner cruise complete with live entertainment.
Contact us ahead of your trip to book the tour time that works best with your plans!
2) Visit A Popular Hannibal Missouri Winery
When visiting Hannibal Missouri, you can't miss out on the incredible craft beer and wine curated in the area. The Cave Hollow West Winery is located within the Mark Twain Cave Complex and has a cozy campground on site for those who want to take in the fresh air and sleep under the stars.
You'll also find a wonderful gift shop on the complex, and you can book guided tours of the Mark Twain Cave/Cameron Cave for a thrilling adventure deep into the cavernous rock faces.
3) Some Come To Hannibal For The View
Once you see the views in Hannibal, you'll understand how Mark Twain could draw inspiration from such a gorgeous place. If you want to see panoramic views of the town, the best place to go for a photo op is the Mark Twain Memorial Lighthouse. Climb to the top for some of the best 360-degree views of Hannibal.
The next stop on your list of places to find the best views is Riverview Park. Just like its name implies, this 465-acre forested park has some of the most stunning views of the Mississippi River.
On top of the unbeatable scenery that inspired a literary genius like Mark Twain, there are plenty of other things to enjoy. You'll find trails to take a leisurely stroll, a spring house to visit and relax in, a cascading waterfall, and even a playground and picnic area to relax with family and friends.
4) Learn The Rich History Behind Mark Twain's Life And His Beloved Hometown
While you might think of simple things like visiting Mark Twain boyhood home to learn about the inspiring author, several locations throughout Hannibal can teach you a thing or two about the author and some of his famous characters.
First, the Hannibal History Museum will teach you all about Hannibal's history and what makes the town special, and your next stop should be Main St, where you'll find the house that will teach you about Mark Twain and his boyhood home.
Next, take a trip to the Becky Thatcher's House Museum to learn about a childhood friend of Mark Twain's daughter and the famous character she inspired in the "Adventures of Tom Sawyer" story. After the Becky Thatcher House, the Molly Brown Birthplace Museum changes the pace by teaching you about the life of a woman whose heroic actions during the sinking of the Titanic made her famous.
After you finish at the Molly Brown birthplace exhibit, take a trip back in time to the golden age of railroading at Big River Train Town. At this vintage-filled museum, you can interact with old-school railroad toys, shop for vintage trinkets, and more!
5) Tour The Huck Finn Freedom Center
Unfortunately, the time of Huckleberry Finn and Tom Sawyer was not a pleasant time for all. The Huck Finn Freedom Center is the first memorial to Jim and the only African American museum in Northeast Missouri.
It's not only a tribute to the wonderful man that inspired the beloved character Jim, but it highlights influential and prominent African American figures from Hannibal.
6) See How The Locals Lived
It's always interesting to take a step back and look at how things were for different generations. There are a few locations in Hannibal that allow you to see how Mark Twain and his neighbors may have lived, but two structures stand out to us the most out of all the historic places to explore.
The Rockcliffe Mansion is a massive mansion masterpiece with more than 30 rooms to explore and ten giant stone fireplaces to cozy up around. They even rent our suites to travelers and locals who want to stick around the mansion for a night or two.
On the opposite end of the spectrum, you have more modest homes like the Huckleberry Finn House on Hill Street.
7) Enjoy The Great Outdoors
After all the tours and museums, head to Sodalis Nature Preserve to enjoy a quiet moment in nature. There are over six miles of leisurely trails to explore and picnic areas to lounge with friends.
Another great outdoor space to discover is Huckleberry Park. Huckleberry Park has brightly lit basketball and tennis courts, softball, and more ways to stay active.
Make The Most Of Your Mark Twain Experience
The absolute best way to capture the beauty of Mark Twain's hometown is to climb aboard one of our boats at Mark Twain Riverboat.
Sit back and relax while our captains and guides take you down the mighty Mississippi for an educational tour you'll never forget!